Register
Vancouver Island Motorsports Track
When: Sunday, 23-Jun-2019
Where: West Vancouver, BC
Vancouver Island Motorsports Track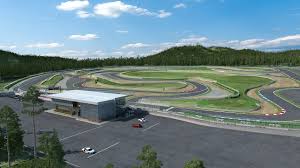 This event will be a great opportunity for you to enjoy your Porsche.
The day begins at 07:30 sharp with a coffee and driver's meeting at Starbuck's in the Caulfield Mall 5339 Headlands Dr, West Vancouver. Depart 7:50 for the terminal. We will then board B. C. Ferries in Horseshoe Bay for the scenic crossing to Departure Bay Nanaimo (Reservation on the 08:45 Horseshoe Bay to Departure Bay Nanaimo is a must.
From Nanaimo we drive south to the Vancouver Island Motorsport Track for "parade laps" at this beautiful facility and lunch overlooking the action on the track. We also have the opportunity to meet up with members on the Zone 6 Grand Tour while at the track
Later on in the afternoon we depart for the drive north through Maple Bay, Crofton, Chemainus, Ladysmith and time permitting Yellow Point and Cedar.
We depart for home on the 5:45 B.C. Ferries sailing from Duke Point to Tsawwassen. (Reservation for this sailing is a must.)
This tour is limited to 20 cars.
There is a $30 per person charge for lunch. So register passengers individually
Cost of ferry and reservation not included
Registration is required on KARELO.
The tour will go rain or shine.
Please have a full tank of gas as there is no gas stop planned.
Questions please contact: Larry Fuline Brian McCormack
lfuline(at)cogeco.ca bmccomrack(at)telus.net
416 880 2677 604 250 2877
INFO
Fee: Cdn$ 30.00

Max. Participants: 16
Sign up before:
Sat, 22-Jun-2019 11:00
CONTACT
Larry Fuline
Tel: (416) 880-2677
Email: Click here

All Events by Porsche Club of America - Canada West Region
Return to Menu