Register
Karneval 2018 Berliner
When: Tue, 13-Feb-2018 05:00 pm - Tue, 13-Feb-2018 06:00 pm
Where: Vancouver, BC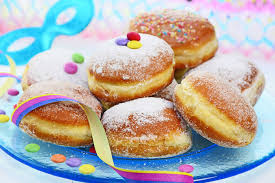 KARNEVAL 2018
Liebe Eltern/Dear parents,
On February 7th the Vancouver Westside German School will celebratie KARNEVAL with our JUNIOR STUDENTS again. We are happy to announce that the traditional "Berliner/Krapfen..." are available to pre-order as of now.
Please note, that all students, teachers and support staff will be receiving a complimentary Berliner that day.
All additional Berliner must be ordered online by end of day Friday, February 2, 2017.
All items must be picked up on Tuesday February 7,
5-6pm in the Lord Kitchener Foyer.
INFO
Sign up before:
Mon, 12-Feb-2018 10:00 am
All Events by Vancouver Westside German School
Return to Menu