Register
Karneval 2019 Berliner
When: Tue, 26-Feb-2019 04:00 pm - Wed, 27-Feb-2019 07:00 pm
Where: Vancouver, BC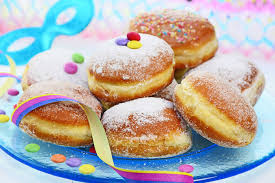 KARNEVAL 2019
Liebe Eltern/Dear parents,
On February 26th the Vancouver Westside German School will celebratie KARNEVAL with our JUNIOR STUDENTS again. We are happy to announce that the traditional "Berliner/Krapfen..." are available to pre-order as of now.
Please note, that all (Junior and Senior) students, teachers and support staff will be receiving a complimentary Berliner on Feb 26th or Feb 27th.
Please order only if you would like to have extra Berliner. All additional Berliner must be ordered online by 12pm on Friday, February 22nd, 2019.
All items must be picked up on Tuesday, February 26th or Wednesday, February 27th between 5-6:30pm in the cafeteria of Prince of Wales Secondary School.
Price per Berliner is: $2.
INFO
Sign up before:
Fri, 22-Feb-2019 12:00 pm
All Events by Vancouver Westside German School
Return to Menu