Register
Skate Brandon
2019/2020 Competitive Fall & Winter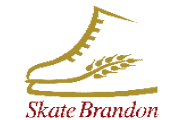 2019/2020 Competitive Fall & Winter Season
Fees:
Competitive: 3 day week with an additional 2 Sundays in September and one Sunday in October
Registration - $1275.00
Fundraising - $425.00
Total registration fee $1700.00
Volunteer - $50.00 Separate payment
Payment options:
1) $1700.00 online or eTransfer
2) 6 equal payments - Sept. 1, Oct. 1, Nov. 1, Dec. 1, Jan. 1, Feb. 1
$283.33 payment (includes fundraising fee)
$212.50 payment - requires postdated check for $425.00 fundraising post-dated March 30, 2020
$50.00 volunteer - separate payment due with registration, post-dated to March 30, 202
Skate Brandon accepts cheques or eTransfers
Add On available for Star and Comp:
Must register for 2 or 3 day Starskate package
Wednesday Morning - 7:00-8:00 am
Exceptional value for the season for $250
REGISTER BY SEPTEMBER 24, 2019
Click below for:
*Volunteer Fee - .
Events that will require volunteer shift to be filled include, the Skate Brandon Winter Festival in December 2019, the Skate Brandon Ice Show in March 2020 and the North/South Westman Regionals 2020.
*Fundraising Fee - this is simply an opportunity for all Starskate and Competitiveskate members to fundraise a portion of their registration fees. There are 2 options:
1. Pay your registration and fundraising fees upfront or in monthly installments and do no fundraising.
2. Pay your registration upfront or in monthly installments and participate in club fundraisers throughout the year. At the end of the season, you will be invoiced any outstanding fundraising amount. *if your fundraising exceeds your fundraising amount, this amount will stay with the club*
Click 'Sign Up Now' to continue.
Click 'Sign Up Now' to proceed.
CONTACT
Skate Brandon
Tel: (204) 726-3585
Email: Click here

All Events by Skate Brandon
Return to Menu