Register
October Dinner Meeting 2018
When: Tue, 02-Oct-2018 08:00
Where: 141 Wilson Avenue, Toronto, ON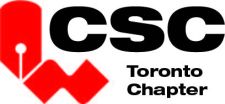 October Dinner Meeting 2018
Topic: Polished Concrete
Understanding, Specifying and Verifying
Speaker: Paul Giangualano, General Manager of BNE Contractors, responsible for the
sales and oversite of Polished concrete and Epoxy coatings installations in Ontario and across Canada. With over 14 years of floor industry experience with BNE, as an installation foreman, project manager, operations manager and general manager, Paul has been Involved with 100's of projects and is an active educator within the industry delivering numerous polishing and floor system related presentations through the year.
Date:
October 2nd, 2018
Location:
Toronto Skating, Curlin, and Cricket Club
141 Wilson Ave., Toronto
(1 block east of Avenue Rd.)

Time:
17:15 - Cocktails
18:00 - Dinner
19:00 - Presentation
Cost:
$46.67 + HST = $55.00 - Member
$53.10 + HST = $60.00 - Non-Member
$57.42 + HST = $65.00 - Cash at the Door
$234.51 + HST = $265.00 - Booklet of 6 Dinner Tickets*
*Please note that the purchase of a Booklet of 6 dinner meeting tickets will result in 1 ticket being applied for this dinner meeting and the remaining 5 tickets will be supplied upon registration at the dinner meeting. Booklets available to CSC Members Only.
REGISTRATION CLOSES ON SEPTEMBER 28th AT 2 PM
Information:
Russell Ibbotson, CSC Toronto Chapter Program Committee (Click here)
Bruce Hudson, CSC Toronto Chapter Program Committee (Click here)
Micah M Rodrigues, Chapter Administrator (Click here)
INFO
Sign up before:
Fri, 28-Sep-2018 14:00
All Events by CSC Toronto Chapter
Return to Menu