Register
May 2019 ACM Dinner Meeting
When: Tue, 14-May-2019 17:15
Where: 141 Wilson Avenue, Toronto, ON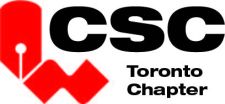 May 2019 Dinner Meeting & Annual Chapter Meeting (ACM)
Topic:
A special exhibition on The CSC Design Competition.
Winners will be announced!
Date:
May 14, 2019
Location:
Toronto Skating, Curling and Cricket Club
141 Wilson Ave., Toronto
(1 block east of Avenue Rd.)

Time:
17:00 - Cocktails
17:30 - Annual Chapter Meeting (all members are encouraged to attend!)
18:00 - Dinner
19:00 - CSC Design Competition Presentation
Check out all the details of the competition at https://www.cscdesignchallenge.ca/
Pricing:
$46.67 + HST = $55.00 - Member
$53.10 + HST = $60.00 - Non-Member
$57.42 + HST = $65.00 - Cash at the Door
$234.51 + HST = $265.00 - Booklet of 6 Dinner Tickets*

*Please note that the purchase of a Booklet of 6 dinner meeting tickets will result in 1 ticket being applied for this dinner meeting and the remaining 5 tickets will be supplied upon registration at the dinner meeting.
Booklets available to CSC Members Only. Purchase of a booklet does not indicate the number of attendees, each person must be registered. Ticket holders must sign-up for each meeting in advance using Karelo. Failure to do so will result in $30+HST Admin fee being levied per occurrence.
Information:
Russell Ibbotson, CSC Toronto Chapter Program Committee
(russell.ibbotson(at)velux.com)
Bruce Hudson, CSC Toronto Chapter Program Committee (hudson.bruce(at)ca.sika.com)
Micah M. Rodrigues, Chapter Administrator (admin(at)csctoronto.ca)
INFO
Sign up before:
Fri, 10-May-2019 13:00
All Events by CSC Toronto Chapter
Return to Menu