Register
SHARE THE VISION
When: Thu, 14-Nov-2019 09:15 - Thu, 14-Nov-2019 15:15
Where: 8905 Bathurst St., Richmond Hill, ON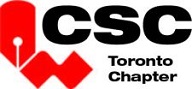 Toronto Chapter of Construction Specifications Canada and
Ontario Glass & Metal Association
invite you to attend
SHARE THE VISION
A CSC/OGMA Educational Collaboration
Thursday, November 14, 2019
9:15 a.m. to 3:15 p.m.
Richmond Hill Country Club
The Toronto Chapter of Construction Specifications Canada and the Ontario Glass & Metal Association are excited to team up to produce an educational event that will be both informative and entertaining. This is a great opportunity to expand your knowledge on a range of topics and to give your employees the opportunity to learn about issues outside the normal range of their daily jobs.
Share the Vision will be held at the Richmond Hill Country Club on Thursday, November 14, 2019, from 9:15 a.m. to 3:15 p.m.
Topics and speakers:
Noise Reduction Glazing
Ron Hull, P.E.
Marketing Manager, Kuraray America, Inc.
Kuraray, the world leader in the manufacture of interlayers for laminated glass, invests heavily in the development of new technologies. Learn how one of their latest inventions will reduce sound transmission through glazing.
The New Ontario Construction Act
Glenn Ackerley, LL.B.
Partner and Chair of the Construction Practice Group, WeirFoulds LLP.
Learn how to use the recently enacted prompt payment provisions and adjudication systems of The Ontario Construction Act, the replacement for the Construction Lien Act, to your advantage. This session also explores important provisions that will help you protect your business and ensure you are paid for your work on a timely basis.
Emerging Technologies in Glass
David Cooper
Building Façades Manager for Guardian Fabrication
Guardian Industries is a world-class company in the development of emerging technologies. This session will give you a glimpse into the future of the impact of vacuum glass on the energy efficiency of glazing, as well as address the application of nanotechnology to virtually eliminate glare and reflections from glass.
Avoiding Building Envelope Failures
Ted Kesik, Ph.D., P.Eng.
Professor of Building Science at the Daniels Faculty of Architecture, Landscape and Design, University of Toronto
Dr. Kesik will provide guidance on preventing building envelope failures through proper and proven protocols, from the conceptual design stage through all aspects of building envelope commissioning. He will also discuss how "value engineering" often results in disappointing performance issues.
INFO
Sign up before:
Tue, 12-Nov-2019 21:00
All Events by CSC Toronto Chapter
Return to Menu