Register
May 2021 Annual Chapter Meeting
When: Tue, 04-May-2021 19:00
Where: Microsoft Teams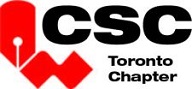 May 4, 2021 Annual Chapter Meeting
Come join us to hear all the exciting initiatives that were taken during the 2020-2021 year. In spite of the pandemic and not being able to meet in person, the CSC Toronto Chapter wishes to share with the membership all the work that was undertaken during this year. Non-members are welcome, but are reminded that all voting is for members only.
There will be time to socialize after the meeting.
Make sure you have your favourite beverage handy.
Date:
May 4th, 2021 (registration closes May 4th at 6:00 PM)
Location:
Time:
7:00 pm - Annual Chapter Meeting
Social Time Afterwards
Cost:
Information:
INFO
Sign up before:
Tue, 04-May-2021 18:00
All Events by CSC Toronto Chapter
Return to Menu