Register
Specifier Course - 2020
When: Mon, 20-Jan-2020 17:30
Where: 401 Wellington Street West, Toronto, ON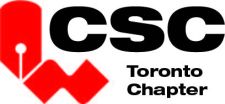 Specifier Course
***Subject to a minimum of 3 students***
Learning Outcomes
Communication:
Communicate the principles of construction grammar and specification document organization.
Project manual and drawings:
Understand the function of the project manual and associated drawings.

Good specifications:
Develop the basis for preparing good specifications.
Writing skills:
Refine writing skills.
Legal issues:
Understand the legal decisions underpinning Canadian contract law and insurance issues.
Course Description:
This course has been developed to support students pursuing a career in construction specification writing. This course is also designed for individuals involved in the construction industry who at any point in their career are required to produce, read, supply products in relation to a project, or rely on the project manual/specification. In other words, it is designed for anyone in construction, whether they work as a specification writer, designer, consultant, contractor or supplier.
Specifier Course is designed for those wanting to know more about the preparation and processes needed to produce quality contract documents. The course will serve as a refresher for the practicing specification writer and will assist those who are preparing for or are enrolled in the Registered Specification Writer (RSW) program or those who wish to become a Certified Specification Practitioner (CSP).
Specifier 1 students must have completed the CSC Level 1 course: Principles of Construction Documentation (PCD).
Specification writing students come from a variety of backgrounds and experience levels. This course provides some review and background information, as well as some repetition of material from the PCD course. This reiteration of information acts as a review of the key principles from the PCD course. Specifier 2 provides some expansion of these principles through practical applications and practice exercises.
Students should have:
Experience reading construction drawings;

Experience reading construction specifications;

Experiences researching construction materials;

Experience researching construction reference standards; or

Construction-related Certification from a Technical College or University.
Date:
January - April 2020 (Mondays) ***Exact date will be announced once enrollment meets the minimum requirement***

Location:


Stantec Office
401 Wellington St. West, Suite 100, Toronto, ON M5V 1E7
Time:
Instructor:
Tim Lee, RSW
Cost:
$750.00 + HST = $847.50 - Member
$1050.00 + HST = $1186.50 - Non Member
Information:
INFO
Max. Participants: 20
Sign up before:
Fri, 17-Jan-2020 12:00
All Events by CSC Toronto Chapter
Return to Menu