Register
Skate Brandon
2020/21 CANSkate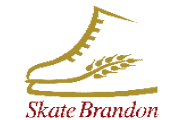 2020/2021 Fall CANSkate
This program is the feeder program for all Skate Canada programs. Skaters start here before entering CanPower or moving up into our StarSkate program. Your child may all ready "know how" to skate and will continue to develop his/her skills while participating in CanSkate.
*All Canskate programs are held in the Enns Brothers Arena unless otherwise specified.
*A Parent letter will be sent out prior to the start date of progams.
*All communication will be via email.
*If you are registering through KidSport, contact the Skate Brandon office @ 204-726-3585 or Click here.
*If you are unsure of how or what to register for, please contact the Skate Brandon office before continuing. We are charging an admin fee for any changes that need to be made to your online registration.
**ALL SKATERS WILL BE REQUIRED TO SIGN A WAIVER BEFORE ATTENDANCE IN CANSKATE. THESE WILL BE SENT OUT AT THE TIME YOUR REGISTRATION IS RECEIVED AT OUR OFFICE AND MUST BE FILLED IN AND SENT BACK THE THE OFFICE PRIOR TO THE FIRST SESSION. NO SKATER WILL BE ALLOWED TO PARTICIPATE UNLESS THIS WAIVER IS COMPLETED AND HANDED IN TO SKATE BRANDON. NO EXCEPTIONS.
Tuesdays - 6:35 pm - 7:20 pm
Start date - October 6th
End Date - December 8th
10 CLASSES - $260.00
Fridays - 5:05 pm - 5:50 pm
Start Date - October 9th
End Date - December 11th
10 Classes - $260.00
NO Volunteer or Fundraising Fee!
IMPORTANT: **Registrations are subject to review by the club and coaches of the program. Skaters who are unable to demonstrate that they can skate without assistance on the ice will not be able to remain in the program at this time due to COVID safety considerations.**
Click 'Sign Up Now' to proceed.
CONTACT
Skate Brandon
Tel: (204) 726-3585
Email: Click here

All Events by Skate Brandon
Return to Menu