Register
BC MODULAR HOUSING SUMMIT (2023)
When: Mon, 08-May-2023 - Wed, 10-May-2023
Where: 100 Esplanade Ave, Harrison Hot Springs, BC

Collaborate Through Dialogue, Advocacy, & Education
Enjoy expert speakers, actionable sessions, industry panels, government networking opportunities, and a rapid housing response discussion, all designed to enhance your knowledge and drive growth.
The 2023 event will incorporate an exciting and informative platform to connect affordable housing and modular stakeholders from all across British Columbia.
Immerse yourself in educational and inspirational presentations, take part in a collaborative workshop, and network with key industry stakeholders.
The MHABC Would like to acknowledge that the 2023 BC Modular Housing Summit will take place upon the traditional, ancestral, and unceded territory of the Sts'ailes, Seabird Island, Sq'ewa:lxw, Cheam, Douglas, Leq'a:mel, Samahquam, Sq'ewlets, and Skatin First Nations.
Fee Inclusions:
Early Bird Full Delegate Pass* - $245+gst (May 8 Ice Breaker, May 9 Concurrent Sessions/AGM, Summit Breakfast, Summit Lunch, & President's Banquet, May 10 Workshops)
May 9, 2023 - Annual General Meeting ONLY - Complimentary to attend. MHABC Members only.
May 9, 2023 - Sessions ONLY - $69+gst (May 9 Concurrent Sessions, Summit Breakfast, Summit Lunch)
May 10, 2023 - Workshop ONLY - $65+gst (May 10 Workshop Breakfast, Workshop, Workshop Lunch)
Additional Add-On Items:
May 8, 2023 - Golf Tournament - $135+gst (Golf, Cart, Lunch, 1x drink at Sandpiper Golf Resort)
May 9, 2023 - Spousal Program - $65+gst (Scenic boat tour on Harrison Lake with Shoreline Tours, lunch, glass of wine)
*Early Bird pricing will end at midnight on March 17, 2023. As of March 18, 2023, "Regular" Full Delegate rate will move to $265
Click 'Sign Up Now' to proceed.
On the following page, you will see this: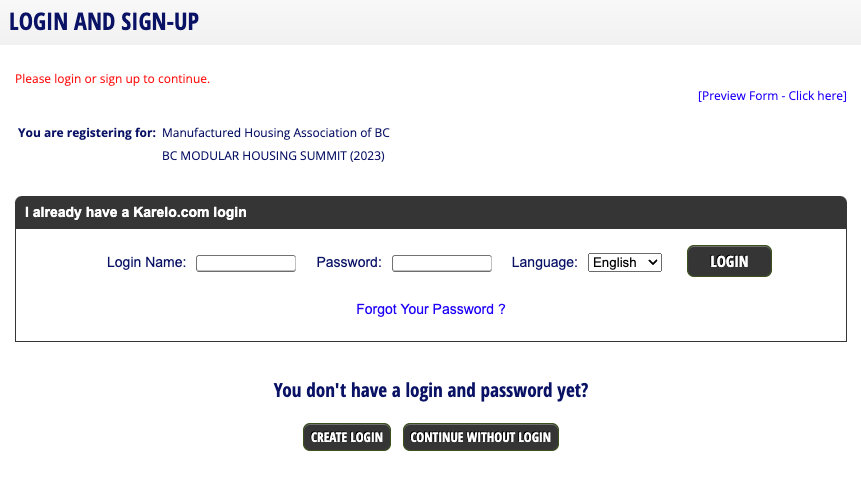 A login is not required. Please select "Continue without login" button (bottom right) to proceed.
INFO
Sign up before:
Fri, 21-Apr-2023 05:00 pm
All Events by Manufactured Housing Association of BC
Return to Menu